Roxbury Township Heating Services
Let Us Keep Your Home Warm in Morris County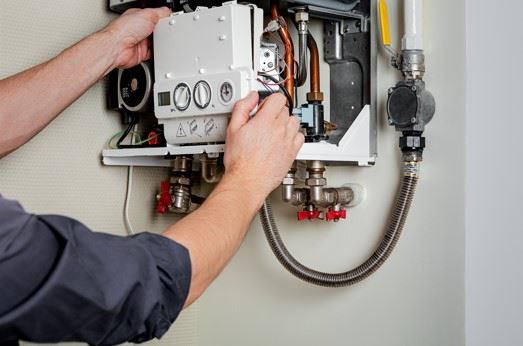 New Jersey winters are known for one thing: being extremely cold. With polar temperatures, snow, and ice all being fairly common for several months out of the year, having a dependable source of heat for your home is not just a luxury—it's a necessity. At All Clear Plumbing and Drains, we offer superior heating services designed to help you stay warm and comfortable all winter long. We service many types of heating equipment, including both oil and gas furnaces, boilers, and more. All of the systems we install are held to the highest standards of quality, and our workmanship is backed by years of experience and substantial ongoing training for your complete satisfaction.
On This Page:
---
At All Clear Plumbing and Drains, we know heating systems and we go to great lengths to ensure yours is working as it should. Give us a call at (973) 707-3953 today to request a service estimate.
---
Boiler Services
Boilers are extremely popular heating systems, particularly with older homes that may or may not have been built with central forced-air heating in mind.
How Boilers Work
Boiler systems use the power of hot water to radiate heat into the various rooms in your home, usually through wall-mounted radiators or through floor heating systems. As the water flows through these heating mechanisms, it loses heat and then returns back to the boiler system for reheating and the cycle starts over.
Our Boiler Repair Services
Boilers are generally reliable and last quite a long time, but are not immune from problems. The team at All Clear Plumbing and Drains is uniquely qualified to handle your boiler issues, including:
Heating element problems
Pipe leaks
Accidental flooding
Our plumbers have considerable experience handling these types of services, and our heating experts can quickly and accurately diagnose your issue to get it fixed and working again.
Gas Furnace Services
Gas furnaces are rapidly becoming the most popular central heating solution in the area. Not only are they generally clean and produce very little exhaust, but their fuel supply is potentially limitless as they draw directly from your already-present natural gas connection.
Can I Install a Gas Heater?
If you have a gas-powered water heater or stove/range, then you have a gas connection and can more than likely take advantage of this type of heating. From simple furnace repairs to complete system replacements or even new installations, All Clear Plumbing and Drains makes sure every one of our gas furnace services meets our rigorous and extensive standards of quality.
Oil to Gas Conversion
Do you still depend on an old oil-burning furnace for warmth? Oil burning furnaces are slowly and steadily being phased out due to their high quantities of exhaust, expensive and messy fuel source, and constant need for refueling or refilling to stay active. If you're looking to convert your furnace to a natural gas option, All Clear Plumbing and Drains is the name to call!
Why Choose All Clear Plumbing & Drains?
We've helped customers in Roxbury Township, Randolph, Mount Olive, Parsippany-Troy Hills, and beyond get the new gas-powered furnace they've always wanted, and we make sure that all conversions adhere to local laws and building codes for a seamless and stress-free project.
We do everything we can to make the oil to gas conversion process easy. From getting the proper permits for the project to selecting the perfect replacement system, we take care of the hard work and provide you with knowledgeable expertise that gets the job done right. Our goal is your complete satisfaction both with the service you receive and the new system that's installed in your home, and we go to great lengths in order to obtain it.
---
Make sure your heater receives the finest heating services in Roxbury Township; contact All Clear Plumbing and Drains today by calling (973) 707-3953.
---
Don't miss out on these deals
$150 OFF Any Water Heater Installation

$50 OFF Any Drain Cleaning Service

$25 OFF Any Service Call

$65 OFF Senior Citizen Discount

$65 off ANY service. Cannot be used towards the dispatch fee.

$75 OFF Military Discount

$75 off ANY service. Cannot be used towards the dispatch fee.

$300 OFF Boiler Installation
Learn Why All Clear is The Best Choice For Your Home
We really care about you & our whole team works to make sure you get the very best service.

With flat-rate pricing, we guarantee honesty through the whole process from start to finish.

We're available 24 hours a day and we guarantee that we'll be at your home in an hour or less.
Schedule Your Service Fill Out This Form of Call Us At
(973) 707-3953